Boarding Time
March 10 to November 30
Regular Boat
9:00/10:00/11:00/12:00/13:00/14:00/15:30
*Weekend and holiday services are irregular.
Private Charters
Departs at all times (weekdays only)
December 1 to 9
Regular Boat
9:00/10:00/11:00/12:00/13:00/14:30
*Weekend and holiday services are irregular.
Private Charters
Departs at all times (weekdays only)
The middle of December 10 to March 9 (No service from Dec. 29 to Jan. 4)
Regular Boat
10:00/11:30/13:00/14:30
*Weekend and holiday services are irregular.
Private Charters
Departs at all times
A red mat is spread out on the floor of the boat and there is a heater on top of the mat. Passengers sit directly on the floor of the boat. There are no chairs in the boat. You can see the scenery from glass windows of the boat covered with a transparent vinyl. It is warm inside.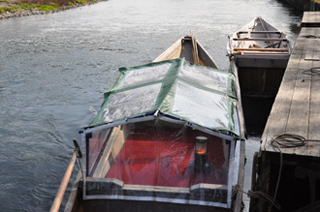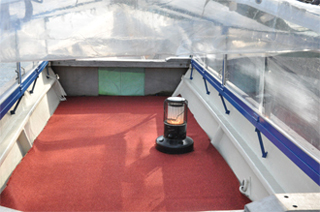 Time Estimate : Approximately 120 minutes, depending on water levels.
Capacity : Approximately 24 people (16 people for a winter boat), but it is subject to change without notice.
In case of rain : Even if it rains we operate our service as regularly with a tent on the boats. However, this does not apply to severe rainstorms or rise of the water level.
* Reservations are taken only for large groups.
* Boat ride may be cancelled due to weather conditions.
Boarding Tickets
Regular Boat
4,100 yen/ adult
2,700 yen / child (ages 4-12)
Private Charters
82,000 yen / a boat (max. 17 passengers)
Group discount
| | | |
| --- | --- | --- |
| Retail | Groups of 35 to 99 adults | Groups of 100 or more adults |
| 4100 yen | 5% off from retail fare | 10% off from retail fare |
School Field Trip discount : 3300 yen per student (more than 121 students)
*Reservations can be made for groups of 10 or more people.
*Boarding Tickets are available at boarding site only. Any kinds of vouchers must be exchanged for boarding tickets at the ticketing counter.
*Vouchers are not refundable at the boarding site. However, unused vouchers can be refunded at the shop where you purchased them with a non-riding certificate. We are happy to issue this certificate.
*There is no cancellation fee.
*When riding with a parent or guardian, children under the age of 3 ride for free (one child per adult. This does not apply to two or more children riding with a single adult. )