Scenery in the ravine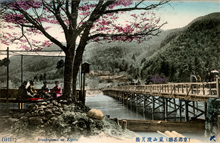 There are mountains overlapping each other in Hozu-kyo Ravine, and the highest one is called Mt. Atago where the Fire God is worshiped. When going down the winding river in the valley, you will catch glimpses of the mountains.
Rocky, piney, mixed tree mountains, Sakura cherry blossoms and autumn foliage. Nature shows many different aspects through the seasons.
The flow is extremely varied including torrents and deep pools.
There are large and strangely-shaped rocks scattered on the shores and it looks as if they are going to block the flow. Each rock is quaint and there are some stories of particular rocks that have passed from generation to generation. Even more unique, there are marks of the poles where the boatmen have pushed, and the traces of ropes made when they pull the boat upstream by manpower.
Spring : Sakura cherry blossoms and petals falling in the river wind
Summer : rock azaleas and Kajika-frogs singing in the clear flow
Fall : colored autumn mountains and passing showers in the ravine
Winter : the ravine with snow looking from special winter boats