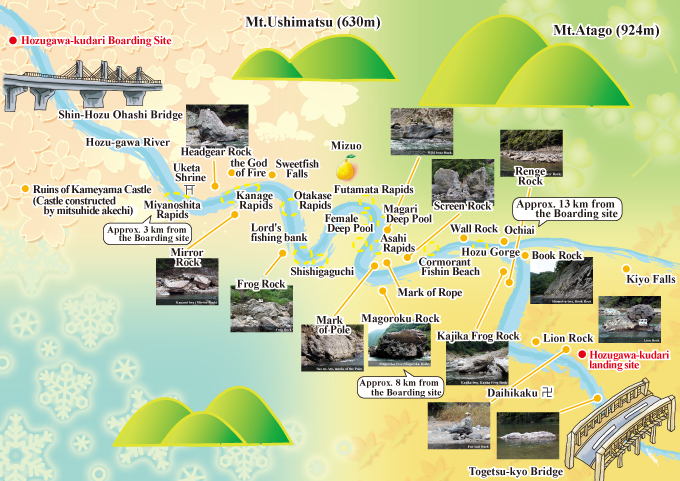 Koayu no Taki, Sweetfish Falls

There is only one waterfall that has a name on the Hozu-gawa River. It is said that a small sweetfish cannot swim up to the waterfall. The height of the waterfall is 2 meters.

Tono no Ryoba, Lord's Fishing Bank

This is a place where the Lords of Tanba-Kameyama, nowadays Kameoka, enjoyed fishing.
The bank is about 10 meters deep and it is the second deepest point in Hozu-gawa River. The deepest point is in Magari-buchi, Magari Deep Pool. There are carp bigger than 1 meter-long in this pool.

Asahi Rapid

This rapid flows East so you can see the sun rising earliest from the mountains in the ravine.

Sao no Ato, marks of the Poles

It is a mark on a rock made by the boatmen which has been used to push the boat with their poles at the same exact point over 400 years.

Tsuna no Ato, marks of the Ropes

They are marks on a rock from when the boatmen had pulled their boats upstream about for 350 years.

Ukai no Hama, Cormorant Fishing Beach

It is a place where the Seiwa Emperor (850-880) as a medical treatment used to enjoy cormorant fishing.

Shomotsu-iwa, Book Rockk

It has layers like piled up books

Kajika-iwa, Kajika Frog Rock

Kajika is a kind of frog which lives in the clean rivers. It is dark brown and the tips of their legs have suctions. The male frogs croak beautifully in the morning and the evening.

Daihikaku Senko-ji Temple

In order to pray to Buddha for the appeasement of the dead, which were relocated for the canal's construction, Ryoi Suminokura ordered in 1614 that Senko-ji Temple be transferred to its current location from the Senryo-ji Temple area.

Hikifune − pulling the boat back upstream with ropes by manpower

After the boats traveled down the Hozugawa River with their cargo, they were pulled upstream by boatmen. This practice continued until 1949. Although it takes about two hours to travel from Kameoka to Arashiyama, downstream, the boatmen needed about four hours to pull the boats back to the Kameoka. On the way back, the boatmen would try to avoid colliding with other boats. They would pull their boat with fine hemp ropes along the riverside."Tsuna-michi" is the name of the pathway they used for pulling their boat. It was designed to make pulling boats easier by providing a clear open pathway and access to areas where the men pulling would encounter fewer obstacles. In 2009, local boatmen traveled the Tsuna-michi and found that many parts were still in great shape. These parts of the path had been constructed with stone. Although the path was carefully laid out, the existing terrain made many parts of the Tsuna-michi hazardous.