Welcome to HOZUGAWA RAFTING!
Embark on an Unforgettable Adventure with Hozugawa Rafting, Provided by Hozugawa River Boat Ride
Overview
The Hozu River has been a vital waterway for transportation since the early days of the Heian period (AD 794-1185). Experience the thrill and safety of our exhilarating rafting tours. Our carefully curated tours guide you through the captivating Hozukyo Gorge, renowned as the highlight of the river rafting experience. With our team of skilled instructors, rest assured that your safety is our utmost priority throughout the adventure. We warmly welcome families with children to join our tours and create unforgettable memories together.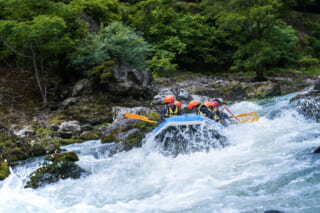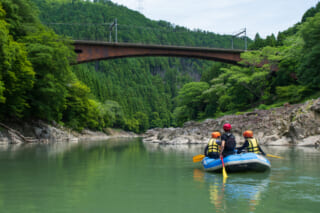 Access
Reaching our rafting site on the Hozu River is both convenient and hassle-free. Here are the options available:
From JR Kameoka Station: It's just an 8-minute walk from JR Kameoka Station to our location. After exiting from the north exit, simply follow the signs that will guide you to our rafting site. Conveniently, JR Kameoka Station is a mere 20 minutes away from Kyoto Station, making it easily accessible from the city.
From Trokko Kameoka Station: If you're arriving in Kameoka by the scenic Trokko train, reaching our boarding site is a breeze. You have two options to choose from. Opt for a delightful 10-minute bus ride from Trokko Kameoka Station, or enjoy a unique experience by taking the picturesque 25-minute horse-drawn carrier to our location.
Please note that the landing site may vary depending on the specific tour you choose. For more details, we kindly request you to refer to the tour introduction pages for each course. Our tours include the Arashiyama Tour, Arashiyama Premium Tour, Hozukuyo Tour, and the Family Rafting Tour.
We are easily accessible from both JR Kameoka Station and Trokko Kameoka Station, ensuring a smooth and enjoyable start to your rafting adventure on the Hozu River.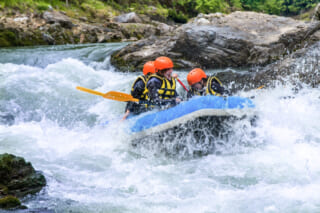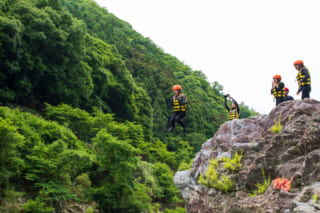 How to Join Our Tour:
Step 1: Choose Your Tour
Browse through our enticing selection of tours and select the one that captures your interest. To guarantee your place, we highly recommend making an advance reservation.
Step 2: Register Online
Visit our user-friendly website and access the convenient booking calendar. Choose your preferred date and time, and fill in the necessary details, including the desired course, number of participants, and accurate contact information.
Step 3: Payment Options
For your convenience, we offer hassle-free online payment options using a credit card. Please note that for any last-minute reservations, payment must be made in cash on the day of the tour.
Step 4: On the Day of the Tour
Ensure you arrive promptly at the designated boarding port and remember to bring the completed participant form for smooth check-in. Our warm and knowledgeable staff will be readily available to provide assistance and ensure an unforgettable experience.
Cancelation Policy:
In the event of tour cancellation or changes, please be aware of the following cancellation fees, which are based on the number of days prior to the tour:
10 days or more before the tour: No cancellation fee
3-9 days before the tour: 30% of the original fee
1-2 days before the tour: 50% of the original fee
On the day of the tour or no-show: 100% of the original fee
We kindly request that you notify us as soon as possible if you need to cancel or make any changes to your reservation. Cancellation fees help cover the costs incurred and ensure fairness to all parties involved. Thank you for your understanding.
Insurence policy:
Participants must adhere to all safety instructions and assume personal responsibility for their well-being. While our tour guides provide initial first aid support, they are not responsible for any subsequent medical treatment.
In the event of any insurance-related issues or accidents, please promptly contact the Hozugawa Yusen Sightseeing Boat Association to ensure eligibility for insurance benefits.
Your safety is our top priority, and we appreciate your understanding and cooperation regarding our insurance policy.
General Insurance:
Our insurance coverage includes the following benefits:
Hospitalization: Coverage of 5,000 YEN per day for hospital stays.
Outpatient Treatment: Coverage of 3,000 YEN per day for treatments received in a hospital.
Death Benefit: A lump sum payment of 5,033,000 YEN in the unfortunate event of death.
Please note that these coverage amounts are subject to the terms and conditions of our insurance policy. For any inquiries or further information regarding our insurance coverage, please feel free to contact us.
Notice
In case of bad weather:
For the safety of our participants, tour courses may be altered or canceled in the event of heavy rain or storms. We will inform the designated tour group contact in such circumstances. Kindly inquire at our office before heading to the boarding port for updates. Please note that transportation fees will not be refunded.
Weight restriction:
To ensure safety, we have a weight restriction policy. Some passengers may be asked to refrain from boarding the boat. Please inquire at the reception to determine if it is safe for you to participate.
Accidents and injuries:
Our tour guides are trained to provide first aid in the event of accidents or injuries during the tour.